Welcome To Living Faith Lutheran!
Our mission is to share the joy of a Living Faith in Jesus Christ with the people of Pembroke Pines and Southwest Broward County
Worship 9:30am Every Sunday!! 
Our Easter celebration was the culmination of a beautiful Holy Week commemoration, washing feet and sharing communion with a new commandment: Love one another, then Good Friday with a Stations of the Cross prayer service in the park at Silver Lakes and an evening joint service with Trinity. Easter morning started with Sunrise Service on the dock - the sun broke over the horizon just as we read from Genesis: And God said: "Let there be light!" The joyful celebration continued inside with breakfast, an Easter Egg Hunt, and our joyous Resurrection Service. Christ is Risen! Christ is Risen, Indeed! Alleluia!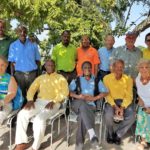 Recently, a small team of pastors and leaders went to Haiti to strengthen relationships and have conversation about the ongoing partnership between the synod and the ELH (Evangelical Lutheran Church in Haiti).  It was clear that God was present in the meetings, the conversation and sharing, the singing and prayers, and throughout the trip.  There is renewed strength and vision in the ELH that was evident throughout our time together.  Pr. Anna Figuero and Pr. Steve Winemiller's previous trip just a few weeks before, laid the foundation for us being able to move through the agenda with a clear vision of how the ELH wants to position itself for the future.
Read whole article and view trip pictures
---