Welcome To Living Faith Lutheran!
Our mission is to share the joy of a Living Faith in Jesus Christ with the people of Pembroke Pines and Southwest Broward County
Worship 9:30am Every Sunday!! 
Our Easter celebration was the culmination of a beautiful Holy Week commemoration, washing feet and sharing communion with a new commandment: Love one another, then Good Friday with a Stations of the Cross prayer service in the park at Silver Lakes and an evening joint service with Trinity. Easter morning started with Sunrise Service on the dock - the sun broke over the horizon just as we read from Genesis: And God said: "Let there be light!" The joyful celebration continued inside with breakfast, an Easter Egg Hunt, and our joyous Resurrection Service. Christ is Risen! Christ is Risen, Indeed! Alleluia!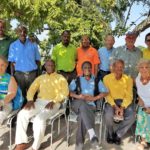 Recently, a small team of pastors and leaders went to Haiti to strengthen relationships and have conversation about the ongoing partnership between the synod and the ELH (Evangelical Lutheran Church in Haiti).  It was clear that God was present in the meetings, the conversation and sharing, the singing and prayers, and throughout the trip.  
Read whole article and view trip pictures
There is so much "rhetoric" swirling about as Congress has acted on Health Care - that it seems important to know some of the underlying issues and proposed changes more specifically.  Thrivent Associate Kristi Clark in Boca Raton has shared a useful summary statement that I found helpful and pass on to you here.   
I keep hearing:  "Pastor, young people just don't come to church anymore…"   It is usually said with a sense of resignation that that is just the way it is.  But it doesn't have to be.  I wonder how many of the "millenial turn-offs" this author describes are present in our congregation?  What are we willing to look at and change?  It's worth considering.    Read More »